Commercial Lighting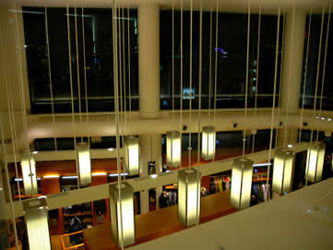 The commercial lighting as the name suggests, are the ones that are used in the commercial places for illumination of the premises. The commercial lighting are installed in the commercial buildings. These buildings are called commercial because a lot of business activities take place in their premises and because of the involvement of business interests of many are at stake hence the lighting of these areas is specially designed by the interior designers and professionals.
Commercial outdoor lighting generally means using different colors, designs as well as intensities. Such a difference is meant to keep the customers in a happier state of mind and be more excited about being present on the commercial property.
With a lot of people visiting the commercial places for their business interests, these infrastructures need to have appropriate lighting and also stand apart in terms of aesthetics. The outdoor lighting here is done strategically to ensure proper illumination and desired impact on the customers. The hidden lightings near the pole and steep walls give a spectacular look to whole structure. The lighting in the commercial places should be done in a way that no corner is left without illumination. The proper lighting also discourages miscreants to attempt any thing bad.
Lighting may include but is not limited to metal halide & high pressure sodium systems, sign lighting repairs, emergency lighting, exit lighting, ballast replacement, energy efficient lighting, parking lot lighting and lighting maintenance services.
| | |
| --- | --- |
| | |
| Indoor Commercial Lighting | Outdoor Commercial Lighting |
Delaney's Electric, Inc provides electrical services for Home Owners, Contractors, Residential Property Management, Realtors, and Insurance Agents. We stand behind the quality of our service with a solid guarantee. Please call (970) 834-1715 or Contact Us for a Free Estimate.
Article Source: http://EzineArticles.com/?expert=David_Faulkner